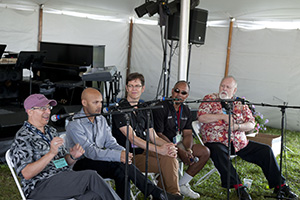 Artist Talks
Each summer The Litchfield Jazz Festival offers clinics and artist talks by Festival stars. This year these special events will be hosted by DownBeat Publisher, Frank Alkyer, and held on the grounds of the Litchfield Jazz Festival inside the Student Stage Tent.
Did you ever wonder what went into learning an instrument, composing the music you love listening to, or what inspired your favorite musicians to perform? Well, now is your chance to find out.
All are welcome - musicians and music lovers alike - to enjoy thse open format clinics and artist talks. Festival stars will talk about their experiences, demonstrate and, if they choose, invite some students (young and old) to play with them. Artist Talks are held between Mainstage Acts and are open to Festival ticket holders and Litchfield Jazz Campers free of charge.
Artist Talks Schedule*
Saturday, August 6

Sunday, August 9
| | |
| --- | --- |
| Artist TBD                              n | Time TBD |

*Artists and schedule subject to change
Top photo: 2012/13 Artist-in-Residence, Gary Smulyan, giving a Clinic at the 2012 Litchfield Jazz Fest. 
Photo by Fran Kaufman.