Contemporary, smooth, and eclectic just begin to describe Albert Rivera, "a modern Jazz Messenger" with one of the most exciting saxophone sounds in today's jazz scene. Born in Bronx, NY, Albert began playing as a classical musician at age 10, and he made his first appearance at Carnegie Hall two years later. While studying at the selective LaGuardia High School for Music and Arts, Rivera discovered jazz, and he was hooked. "I was speechless the first time I heard Charlie Parker and John Coltrane," he says.
Rivera's distinct style has been influenced by classic jazz greats like Coltrane and by more contemporary sounds, like those of Joshua Redman. "When I first heard Elastic by Redman, I knew it was only a matter of time before I adapted it to my own voice. I use the modal aspect of Coltrane as a creative launching pad, mixing in a variety of grooves and rhythms. My music can make you move, it may make you think, and it definitely will evoke your emotions."
At New School University, where he received his degree as a scholarship student, and at Litchfield Jazz Camp, which he attended from age 15 on, and on whose staff he now serves, Rivera enjoyed the priceless opportunity to play and learn alongside the likes of Don Braden, Jimmy Greene, Junior Mance and Claudio Roditi, Reggie Workman, Chico Hamilton, Billy Harper, Rachel Z, and Charli Persip.
Rivera has toured throughout North America with his own Trio and Quartet, playing at venues like NYC's Smalls Jazz Club, Sweet Rhythm, Zinc Bar, Cleopatra's Needle, Dizzy's and B Smith's where he also serves as Music Coordinator. He appears regularly in Connecticut, Philadelphia, Baltimore and Washington, D. C. As a sideman he has performed in clubs and on major festivals with Junior Mance, Winard Harper, Claudio Roditi, and others.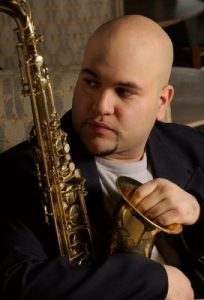 His latest album, Inner Peace, was released in 2010 on Turnaround Records. Albert Rivera is proud to endorse and perform exclusively on RS Berkeley saxophones and Vandoren mouthpieces, reeds and ligatures. This is his first appearance as a leader at Litchfield Jazz Festival. His ensemble includes Albert Rivera on sax, Beck Burger on the organ, Nick Roseboro on trumpet, Nate Jolley on drums and Andrew Lipow on guitar.
Artist Website

Listen to this Artist