"Even in these times of extraordinary bass players, Sharpe stands out."  — Leondard Feather, Los Angeles Times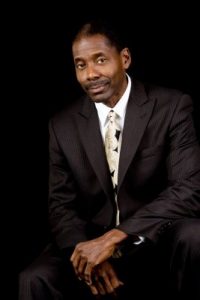 Honesty. Clarity. Dignity. These are words that come to mind when you listen to the music of bassist-composer Avery Sharpe. In an age of ephemeral pop stars and flavor-of-the-month trends, Sharpe is a reminder of the lasting value of steadfast dedication and personal integrity.
Sharpe was born the sixth of eight children in Valdosta, Georgia to a mother who attempted to teach all her kids piano, with mixed results. Avery switched to electic bass in high school and then attended the University of Massachusetts, where he studied economics and continued to play. At UMass, he met bassist Reggie Workman, who encouraged him to learn the acoustic bass. Sharpe adapted quickly to the big instrument, and within a few years he was performing with such notables as Archie Shepp and Art Blakey. In 1980, Sharpe auditioned with McCoy Tyner and won a spot in the pianis
t's group. He worked with Tyner for 20 years, playing hundreds of live gigs and appearing on more than 20 records.
Sharpe's credits also include sideman stints with many other jazz greats, from Dizzy Gillespie to Pat Metheny, as well as leading his own groups. His 2005 recording, "Dragon Fly" on JKNM Records features Winard Harper and Onaje Allan Gumbs, now regular members of his trio, and, today, like Avery himself, teaching artists for Litchfield Jazz Camp. All Sharpe's recordings feature his distinctive original compositions, which draw from the full range of his musical experience.
Avery Sharpe is equally adept at songs and longer compositional forms. In 1989, he wrote and conducted the soundtrack for the movie An Unremarkable Life; a decade later, his six-movement piece America's Promise debuted in a concert-hall performance that featured Sharpe's quintet and a gospel choir backed by the Springfield (Mass.) His compositions have been commissioned by the Classical group Fideleo, Chamber Music Plus and the the Springfield Symphony Orchestra.
Artist Website

Listen to this Artist

Listen to this Artist