"A most impressive pianist" –Bob Brookmeyer
---
Winner of the 2009 Mary Lou Williams Women in Jazz Pianist Competition, Carmen Staaf has been called "a new star to discover" (Allmusic.com).  Most recently she was chosen as the pianist in the prestigious Thelonius Monk Institute of Jazz Performance at UCLA's Herb Alpert School of Music for the fall of 2014. She was featured on NPR's JazzSet with Dee Dee Bridgewater, with clips of her Kennedy Center performance at the 2010 Mary Lou Williams Women in Jazz Festival and She was the guest soloist with the Lincoln Center Jazz Orchestra on a Jazz for Young People program about Duke Ellington.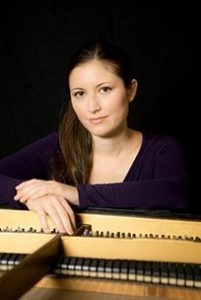 Carmen has performed throughout the US and at many venues in Europe, Latin America and India. She recently toured Europe as the accordionist with Mexican singer Lila Downs (with whom she also played Carnegie Hall), and the United States with French jazz vocalist Raphaelle Brochet. She taught jazz piano alongside Dafnis Prieto, Ferenc Nemeth, and Derek Nievergelt at Swarnabhoomi Academy of Music near Chennai, India.
She serves on the faculty of Litchfield Jazz Campalongside Don Braden, Matt Wilson, Vincent Gardner, and others, and is an accompanist for Jazz at Lincoln Center's Webop program. She joined the piano faculty at Berklee College of Music at age 24, upon graduating from a five-year double degree program at Tufts University (anthropology) and New England Conservatory, where she studied with Danilo Perez and Bob Brookmeyer.
She lives in Brooklyn and is active on the NYC jazz scene, playing at venues like Cornelia St. Cafe, Iridium, Zinc Bar, Smalls, the Stone and the 55 Bar. Her Trio album, recorded in 2011 with Kendall Eddy on bass and Austin McMahon on drums, is entitled Eye to Eye. It was recorded live at Seattle's Earshot Jazz Festival and is availale on iTunes.
Carmen has worked with many jazz luminaries, among them Wynton Marsalis, Eddie Gomez, Bob Brookmeyer, Esperanza Spalding, Matt Wilson, George Garzone, Francisco Mela, Anat Cohen and Avishai Cohen.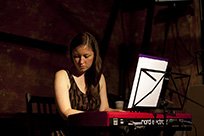 This is her debut at the Litchfield Jazz Festival. Her band includes Litchfield Jazz Camp faculty colleagues trumpeter Dave Ballou, alto saxophonist Kris Allen, bassist Jon Michel, drummer George Schüler, and vocalist Nicole Zuraitis.  It showcases some of her original music and arrangements.
Artist Website