"If anyone can extend the lineage of the Big Three – Billie Holiday, Sarah Vaughan, and Ella Fitzgerald – it is this 23-year-old virtuoso…" Stephen Holden, New York Times
Enjoy an interivew on NPR's All Things Considered with Cecile McLorin Salvant and pianist Aaron Diehl – LISTEN HERE to Authentic Early Jazz, From A 23-Year-Old 'WomanChild'.
---
Cécile McLorin Salvant was the youngest finalist everin the Thelonious Monk International Jazz Competition in 2010. Almost no one had heard of her—and then she won! This season she will appear on virtually every major festival in the country. Ben Ratliff wrote of her in the New York Times, "She radiates authority." Wynton Marsalis said, "She has poise, elegance, soul, humor, sensuality, power, virtuosity, range, insight, intelligence, depth and grace." Then he promptly hired her to appear on the Jazz at Lincoln Center Stage and mounted a 25 foot high portrait of her on the building!
McCLorin, whose first language is French thanks to her Haitian father, got an early start: piano at 5, Miami Choral Society at 8. She skipped the conservatory route heading instead to Aix-en-Provence in France to continue to develop as a singer. She studied there and then performed and recorded with Jean-François Bonnel and his quintet, immersing herself at the same time in early jazz and blues.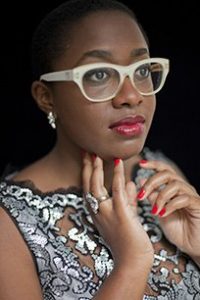 After her Monk triumph she released her first album on Mack Avenue Records. Her pianist on that recording was the remarkable Aaron Diehl who appears with her at Litchfield. Also in the band is Paul Sikivie on bass and Jamison Ross on Drums.
Stephen Holden of the Times said Cecile her virtues include "perfect pitch and enunciation, a playful sense of humor, a rich and varied tonal palette, a supple sense of swing, exquisite taste in songs and phrasing, and a deep connection to lyrics." All absolutely spot on. Hear for yourself at her first Litchfield Jazz Festival appearance, Friday night, August 8.

Listen to this Artist
Artist Website