The "best jazz pianist of his generation." — TIME Magazine
---
Virtuosic and playful, pianist Cyrus Chestnut's hard swinging, soulful sounds have become a staple in the jazz community. Blending contemporary and traditional jazz with gospel and occasional seasonings of Latin and samba, Chestnut gives himself plenty of freedom to explore different emotions, while keeping his music in recognizable form. His "lush chords, playful grace notes, worshipful tremolos and effortless runs up and down the 88s" are sure to impress, but its his warm demeanor and irresistible sweetness that make him "one of jazz's most beloved ambassadors."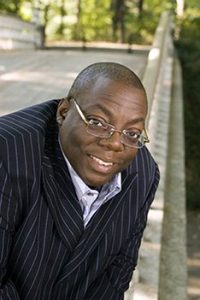 Born in Baltimore in1963, Cyrus Chestnut first received musical training at age five from his father, McDonald Chestnut. His first public performance was two years later at the Mt. Calvary Star Baptist Church. He received further training at Peabody and at Berklee College of Music, where he graduated with a degree in Jazz Composition and Arranging and received the Eubie Blake Fellowship in 1982, the Oscar Peterson Scholarship in 1983, and the Quincy Jones Scholarship in 1984.
Cyrus began his professional career working with Jon Hendricks (1986-88), Terence Blanchard and Donald Harrison (1988-90), and Wynton Marsalis (1991 followed by a two-year stint with Betty Carter. Chestnut launched his career as a leader with the album Revelation released on Atlantic Jazz in 1994. The New York Times said he is "a highly intelligent improviser with one of the surest senses of swing in jazz."
Chestnut has played with many other leaders on the music scene, including Freddie Hubbard, Branford Marsalis, Chick Corea, and Dizzy Gillespie, recording and performing around the world. An extremely versatile pianist, he has also collaborated with Vanessa Williams, Brian McKnight, Kathleen Battle, Freddy Cole, Bette Midler, Jimmy Scott, Isaac Hayes, and Kevin Mahogany. His leadership and prowess as a soloist has led him to be a first call pianist in larger ensembles including the Lincoln Center Jazz Orchestra, Dizzy Gillespie Big Band, and Carnegie Hall Jazz Orchestra.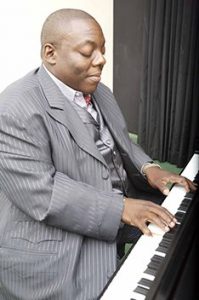 His newest album, Journeys, may be his most compelling to date. His compositions are more mature, and the result is a unique musical journey. Almost 20 years into a notable career, Chestnut's musical voice is still evolving, becoming even more lyrical, timeless, and deeply soulful.
This is Cyrus's fourth appearance at Litchfield. A favorite, he performed here in 2001, 2006, and 2008.  With him are Neal Smith on drums and Dezron Douglas, a Litchfield Jazz Camp alumnus, on bass.
Artist Website