The Litchfield Jazz Festival is proud to dedicate its 15th Anniversary to the inimitable artist and humanitarian, Dave Brubeck.
---
ARTIST TALK: On Saturday, August 7th at 1:00 PM, Artist-in-Residence and drummer Matt Wilson will host an Artist Talk with Mr. Brubeck on the second stage.
---
Dave Brubeck, designated a "Living Legend" by the Library of Congress, continues to be one of the most active and popular musicians in the jazz world. Now in his 90th year,  his experiments in odd time signatures, improvised counterpoint, polyrhythm and polytonality remain hallmarks of innovation.
Raised on a farm in Concord, California by a cattle-rancher father and pianist mother, young Dave Brubeck aimed to follow in his father's footsteps.  He enrolled in college in an agricultural program, and, fascinated with jazz, he supported his studies by playing gigs in local clubs. Luckily for all of us, he changed his major to music.
Graduating in 1942, he enlisted in the Army and married Iola Whitlock, a fellow student at Pacific. She was to become his life partner, mother of his six children, and also musical collaborator and lyricist for her husband. While serving in Patton's Army in Europe Dave led a racially integrated band.  After his discharge in 1946, he enrolled at Mills College in Oakland, California to study composition with French composer, Darius Milhaud. A cross-genre experimentation with like-minded Milhaud students led to the formation of the Dave Brubeck Octet in 1947.
In 1949 with Cal Tjader and Ron Crotty, the Brubeck Trio recorded its first award-winning record.  After suffering a near fatal diving accident in 1951, Dave formed the classical Dave Brubeck Quartet with alto saxophonist Paul Desmond. The legendary Brubeck-Desmond collaboration lasted for 17 years.
The Dave Brubeck Quartet played in jazz clubs in every major city and toured with Duke Ellington, Ella Fitzerald, Charlie Parker, Dizzy Gillespie and Stan Getz.  They repeatedly won top honors in trade magazines and critic's and reader's polls.  In 1954 Dave Brubeck's portrait appeared on the cover of Time Magazine.
The 1959 recording "Time Out" experimented in time signatures beyond the usual jazz 4/4. To everyone's surprise, it became the first jazz album to sell over a million copies, and "Blue Rondo a la Turk" and "Take Five" began to appear on jukeboxes worldwide.
Throughout his career Mr. Brubeck has continued to experiment with interweaving jazz and classical music. He has collaborated with Leonard Bernstein and the New York Philharmonic and with the Murray Louis Dance Company. In 1968 the Cincinnati Symphony Orchestra, with Erich Kunzel conducting, premiered Brubeck's oratorio, The Light in the Wilderness. The following year they premiered his second major work, The Gates of Justice.
Brubeck and his various quartets have toured the world and played for many presidents. In 1988 they accompanied President Reagan to Moscow to perform at the Reagan-Gorbachev Summit.
Dave Brubeck has received numerous awards, including a star on the Hollywood Walk of Fame, induction into the Pantheon of the Arts at the University of the Pacific, Down Beat Hall of Fame, a Grammy Lifetime Achievement Award, the National Medal of Arts, and the NEA Jazz Masters Award.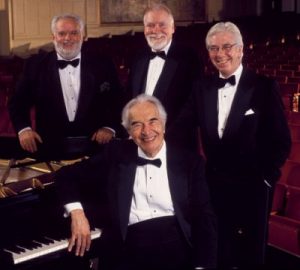 While increasingly active as a composer (his mass "To Hope! A Celebration" has been performed throughout the English speaking world, Germany, Russia and Austria), Brubeck has remained a leading figure in jazz, recording for Telarc, appearing in festivals and touring internationally in concert halls with today's version of the Dave Brubeck Quartet– Bobby Militello, sax and flute, Randy Jones, drums, and Michael Moore, bass, with whom he appears tonight and for the third time at the LJF.
CLICK HERE to for an interview with Mr. Brubeck published in the July/August issue of Litchfield Magazine.

Artist Website