"The band cooks.  No question about it."
–All Music Guide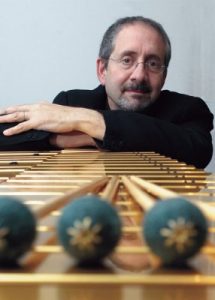 That says it all about the two- time Latin Grammy-winning Dave Samuels and the Caribbean Jazz Project. Now established as the top mallet player of his generation, Dave was born in 1948 in Waugkeegan, IL. He started playing drums when he was 6 and continued through High School where he added vibes and marimba to his repertoire. Then he joined a group who needed a vibes player, and the rest is musical history. He moved to Boston where he graduated from Boston University with a degree in psychology and began playing with locals like Pat Metheny. He was introduced to Gerry Mulligan by a mentor and joined his band. A visit to Buffalo and a lucky break saw him joining a bar band called Spyro Gyra, who went on to make hit after hit with Samuels from 1977 to 1994.
In 1993 Samuels founded The Caribbean Jazz Project who made their debut with a concert at Central Park Zoo. Dave likes to say "we performed for the seals." Two Grammy's, and many albums and performances later, the band is still one of the premier Latin Bands in the world. They won their second Grammy just this year and their first in 2003 for "The Gathering."  Among his bandmates along the way have been Chick Corea, Eddie Palmieri, Ray Barretto, Dave Valentin , David Sanchez, Oscar Peterson, Chet Baker, Stan Getz, Carla Bley, the Yellowjackets, Bruce Hornsby, Frank Zappa, and others.
One of Samuels' other acclaimed projects was a 1974 recording  — Double Image—a vibe-marimba duo with David Friedman.  The album celebrates 30 years of their performing together and has set a new standard for mallet percussionists everywhere.   Samuels is also a respected educator (MalletWorks.com and JazzBooks.com).  He currently teaches at Berklee College of Music and is sponsored by Yamaha and Malletech.
The Caribbean Jazz Project features Alain Mallet on piano, Lincoln Goines on bass, Roberto Quintero on congas, Vince Cherico on drums, and Dave Samuels on vibes and marimba. It is their second appearance on the Litchfield Jazz Festival.
Artist Website