CLINIC:
Aritst-in-Residence, Gary Smulyan, will host a clinic with Donny McCaslin on Sunday, August 12th. Time TBA.
---
Saxophonist Donny McCaslin (b.1966) has been active in jazz since he was a 12 year old member of his vibraphonist father's band. As a teen ager, he played for three years with his own group at the Monterey Jazz Festival. Later, as a full-scholarship student at Berklee College of Music, he came under the influence of vibraphonist Gary Burton and joined his group in 1987 for a four-year world tour.
In 1991 he moved to New York City and was a member of Steps Ahead until 1994, replacing Michael Brecker. He also played with the Gil Evans Orchestra, Danilo Perez, Maria Schneider, John Medeski, Uri Caine and others. The year 2006 marked the turning point in his career when he joined the Dave Douglas Quintet and received wider public attention. In 2010 he recorded as a featured soloist on the CD Coming Through Slaughter – The Bolden Legend.
His first record as a leader appeared in 1998. McCaslin now has nine CDs as a leader, his latest Perptual Motion (Greenleaf Music) was released in 2010. In Pursuit (Sunnyside, 2007) was created with assistance for a 2006 Doris Duke New Works grant from Chamber Music America.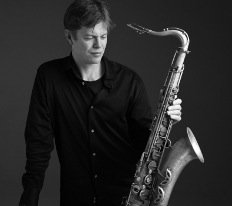 This is Mr. McCaslin's first appearance at Litchfield. Joining him are Mark Guilana drums, Tim Lefebvre, electric bass, and
fender Rhodes.
Artist Website