"As a young jazz musician hungry for knowledge, I quickly realized where the sacred information could be found. The jazz masters! Master Jimmy Heath displays intelligence, sophistication, and spirit of the highest order. He is the exemplar of pure dedication and endless productivity and was an immediate catalyst for my immersion into the deep history of this music. He not only shared the bandstand with, but was respected by, everyone from Miles to Trane to Dizzy, and it goes without saying that I am deeply honored to play with him. Through personality and performance, Jimmy Heath illustrates clearly for us the essence of jazz: the manifestation of love."
– Emmet Cohen, on working with Jimmy Heath
Emmet Cohen, piano
Jazz pianist Emmet Cohen, now just 25 and a former Litchfield Jazz Campers we are most proud of, has quickly become one of the most in demand musicians in New York. He already plays with the maturity and confidence of a seasoned veteran. Since receiving his bachelor's at Frost School under the watchful eye of Shelly Berg and his master's from Manhattan School of Music, he has worked with Kurt Elling, Herlin Riley, Ali Jackson, Brian Lynch, Billy Hart, Jimmy Heath, and many others in New York and abroad.
Emmet began Suzuki lessons at age three. The family moved to Montclair, NJ, when he was 10, and he attended the Manhattan School of Music Precollege Division where he studied classical piano. His interest in jazz intensified, and he was fortunate eoungh to be mentored by some of the greatest jazz musicians on the New York scene.
DownBeat Magazine's Student Music Awards named him "Best Jazz Soloist" and "Best Jazz Combo" (for the Emmet Cohen Trio). He was a 2011 finalist in the American Pianist's Association's Cole Porter Fellowship and took 3rd place in the Thelonious Monk International Piano Competition that same year.  In 2014, he won the inaugural "American Jazz Pianist Competition" in Melbourne Florida.
Emmet's debut album, In the Element features Joe Sanders and Rodney Green. Most recently, he released a co-led project with trumpeter Brian Lynch, featuring bassist Boris Koslov and drummer Billy Hart.
Emmet's current working Trio has Ben Wolfe on bass Evan Sherman, another Litchfield Jazz Camp alum, on drums, and he has selected the great Jimmy Heath to appear with him as his special guest and mentor on this, his second appearance at Litchfield.
Jimmy Heath, saxophone
To call Jimmy Heath a jazz icon is to understate his importance in the music. Now in his 90th year, he remains an active, celebrated musician. Best known for most of his career as a member of The Heath Brothers band, with brothers bassist Percy and drummer, Tootie, Jimmy had an equally illustrious career as a soloist, educator, recording artist, and big band conductor/arranger. He has performed with nearly all the jazz greats of the last 50 years, from Howard McGhee, Dizzy Gillespie, and Miles Davis to Wynton Marsalis.  In 1948 at 21, he performed in the First International Jazz Festival in Paris with McGhee, sharing the stage with Coleman Hawkins, Slam Stewart, and Erroll Garner.  One of Heath's earliest big bands (1947-48) in Philadelphia included John Coltrane, Benny Golson, Specs Wright, Cal Massey, Johnny Coles, Ray Bryant, and Nelson Boyd.  Charlie Parker and Max Roach sat in.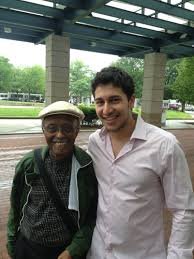 Jimmy Heath has performed on more than 100 albums, including seven with The Heath Brothers and 12 as a leader.  He has written more than 125 compositions, many of which have become standards.  Jimmy has also composed extended works – seven suites and two string quartets – and he premiered his first symphonic work, Three Ears, in 1988 at Queens College (CUNY) with Maurice Peress conducting.
Recently retired from his Professor of Music position at the Aaron Copland School of Music at Queens College, Heath maintains an extensive performance schedule and continues to conduct workshops and clinics throughout the world. He has also taught at Jazzmobile, City College of New York, and The New School.
"All I can say is, if you know Jimmy Heath, you know Bop."   — Dizzy Gillespie
Artist Website