"Gabriel Alegria is a wonderful trumpet player and composer who is creating a sound that few people have heard.  Very fresh," (Maria Schneider).

---
CLINIC: Gabriel and the Sextet will be giving a clinic Saturday from 2:45 – 3:30 PM in Mattison Auditorium on the ground of Kent School.  All ticket holders are welcome to attend.  Learn more about our clinics here.
---
By incorporating the common African roots of both Peruvian and American jazz, Alegria has created the newest musical voice to come from Latin America. Already one of the most influential figures on the current jazz scene in Perú, he lives there and in America where his Afro-Peruvian Sextet has created a following.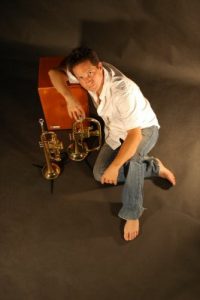 Gabriel Alegria was born into an artistic family in Lima in 1970. His grandfather Ciro was Peru's most famous novelist and his father Alonso is an acclaimed playwright.  He started playing trumpet at 12 in his school's jazz band.  At the National Conservatory in Lima he began experimenting with a combination of Afro-Peruvian music and jazz. He came to the US to pursue his jazz studies and eventually earned a doctorate from the University of Southern California.  His knowledge of Afro-Peruvian music is the result of fieldwork and time spent in Perú learning from the art form's greatest exponents. He is currently Associate Director of Jazz Studies at New York University.
His musical career has already spanned the globe, with over 300 concerts and master classes in North America and concerts for the United Nations and diplomatic missions. His Sextet has appeared in concerts and recordings with Maria Schneider, Placido Domingo, Kenny Werner, Ingrid Jensen, Tierney Sutton, Natalie Cole, The Peruvian National Symphony, Bill Watrous, John Thomas, Russ Ferrante and Alex Acuña. Most recently the group completed "Tour Peru," a new model in touring that included 40 fans who accompanied the Sextet to concerts across Peru.
Alegria's recording Nuevo Mundo, on Saponegro Records, soared to the top of both Jazz Week World Music charts and CMJ's jazz charts in 2008. The CD includes collaborations with jazz artists Tierney Sutton, Bobby Shew, Russell Ferrante and Bill Watrous, as well as with the formidable native Afro-Peruvian artists Freddy "Huevito" Lobaton, Jocho Velazquez, and Joscha Oetz.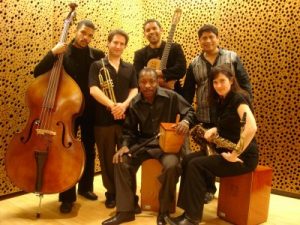 The Gabriel Alegria Afro-Peruvian Sextet includes Gabriel Alegría on trumpet, Laura Andrea Leguía on tenor and soprano saxophones, Yuri Juarez on guitar, John Benitez on bass, Hugo Alcázar on drums and cajon and Freddy "Huevito" Lóbaton on Percussion (Cajon, Quijada, Cajita, & Zapateo Dancing).  This is Gabriel's first appearance at the Litchfield Jazz Festival.
Two weeks after LJF he will be continuing his educational mission appearing with Peruvian composers at the New Haven Jazz Festival.
Artist Website

This presentation is made possible in part with support from Jazz Peru International. Please visitwww.jazzperu.org.