Kirk Whalum, the gold standard of smooth jazz saxophone, deplores labels. "The music I like to play and write," he once said, "encompasses the four elements I grew up with: Memphis R&B, gospel, rock, and jazz. The emphasis, though, is on melody, period."  With a career that spans decades, he is an 11-time Grammy nominee and the winner of the 2011 Grammy Award for Best Gospel Song (Its What I Do, featuring Lalah Hathaway) alongside his lifelong friend songwriter, Jerry Peters.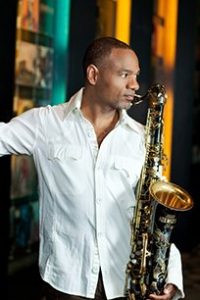 Kirk has always been an in-demand session player for top artists like, Barbara Streisand, Al Jarreau, Luther Vandross, Larry Carlton, Quincy Jones and, Whitney Houston with whom he toured for seven years and played on the mega-hit recording, I Will Always Love You. He has 25 + albums to his credit, the most recent of which is the collaboration album with BWB—Rick Braun, Whalum, and Norman Brown–entitled Human Nature, a tribute to Michael Jackson.
An ordained minister, Whalum has a Masters of Arts degree in Religion. In this spirit he has released four albums in his series, The Gospel According to Jazz, the project he will be bringing to Litchfield. In his determination to break down musical "boxes" the most recent of these recordings melds classical jazz, smooth jazz, Latin rhythms and Gospel vocals –in Spanish!
In addition to music and ministry, Kirk has a passion to educate young, aspiring musicians and currently serves as Chief Creative Officer of the STAX Music Academy and the STAXX Museum of American Soul Music in his hometown of Memphis, TN.
Kirk has received numerous awards and acknowledgements. In addition to his Grammy nods, he has three Dove Award nominations, an NAACP Image Award nomination and has won two Stellar Awards, Gospel music's highest honor.
This is Kirk Whalum's first appearance at Litchfield Jazz Festival. He appears with John Stoddart on keyboards and vocals, Braylon Lacy on bass, Kevin Turner on guitar and Marcus Finnie on drums.
ARTIST TALK – Kirk Whalum will give an Artist Talk under the second stage tent, Saturday, August 9th, 4:45 – 5:30 PM with Frank Alkyer, publisher of festival sponsor, DownBeat Magazine. READ MORE HERE.
Artist Website

Listen to this Artist