"The brilliant new voice of jazz" –The Huffington Post
---
ARTIST TALK: Artist-in-Residence, Gary Smulyan, and DownBeat Publisher, Frank Alkyer, will host an Artist Talk with Gregory Porter on Saturday, August 10th from 4:45 – 5:30 PM in the Student Stage Tent.
---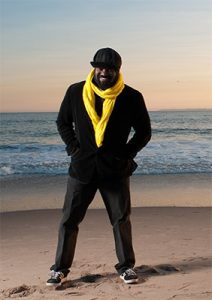 DownBeat Publisher, long-time Festival Sponsor and Advisory Board member, Frank Alkyer, has the best taste I have ever seen (possibly because he agrees with me most of the time!). Frank called me to rave about a young vocalist he said was one of the best acts he'd seen in all of 2012 and an amazing crowd pleaser, Gregory Porter. Frank does not hand out compliments willy-nilly. Great male vocalists are few and far between. We had been watching Gregory Porter for a bit, and with this endorsement, decided it was time to strike!
With a voice that can caress or confront, embrace or exhort, Grammy nominee Gregory Porter exhibits an incredible degree of vocal mastery. Interestingly, all this beauty once resided in a linebacker at San Diego State University, until a shoulder injury sidelined him permanently. Porter's vocal career was born when his friend, record producer Kamau Kenyatta, made an introduction to the great Hubert Laws (performed at LJF in 2012), and Laws included Porter on a bonus track—singing Smile— on his tribute to Nat King Cole. In another life-shaping serendipity, Laws' sister, Eloise was in the studio that day. A singer, she was about to join the cast of a new musical, "It Ain't Nothin' But the Blues." Porter was cast in one of eight lead roles when the play opened in Colorado, and followed it all the way to Broadway, where it received both Tony and Drama Desk nominations and rave reviews in 1999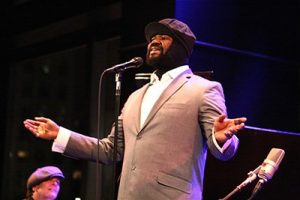 Born in Los Angeles, raised in Bakersfield, and now living in the Bedford-Stuyvesant area of Brooklyn, Gregory Porter is a frequent performer with the Jazz at Lincoln Center Jazz Orchestra and at Smoke Jazz Club on the upper West Side. This promises to be his breakout year, with appearances on many festivals and the fall release of his debut CD, Water, for Motema Music.
This is Gregory Porter's first appearance at Litchfield. His band mates are Chip Crawford on piano, Emanuel Harold on drums, Aaron James on bass, and Yosuke Sato on saxophone.
–VM
Artist Website

Listen to this Artist

Listen to this Artist
Thumbnail image from ieatgrass.com