A giant on jazz flute since the 70's, Hubert Laws is one of the few classical artists to master jazz, pop, and rhythm & blues, and move effortlessly from one to the other. Born in Houston, he grew up directly across from a honky-tonk called Miss Mary's Place with a grandfather who played harmonica and a mother who played gospel piano. His classical training got under way in high school and continued at Texas Southern University where he studied privately with Clement Barone who had a "profound effect" on his development. From Texas, he moved on to Los Angeles with the Jazz Crusaders and then won a scholarship to the Juilliard School of Music when he studied under Julius Baker.
Hubert Laws has appeared with symphony orchestras worldwide from New York to Japan. He performs annually at Carnegie Hall, has played to sold-out crowds at the Hollywood Bowl with Jean-Pierre Rampal and served in the pit at the New York Philharmonic and the Metropolitan Opera. As a jazz star, he has appeared at the Montreux, Playboy, and Kool Jazz festivals, and with the Modern Jazz Quartet, among others. He has received three Grammy nominations.
Mr. Laws has been involved in unique collaborations with Quincy Jones, Bob James, and Claude Bolling for Neil Simon's comedy California Suite, with Earl Klugh and Pat Williams for How to Beat the High Cost of Living, and written film scores for The Wiz, The Color Purple, and more.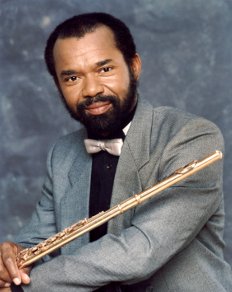 He has 20 albums to his credit on Atlantic, CBS, Music Masters, and CTI, including "My Time Will Come and Storm Then The Calm. Session work has remained a staple and includes collaborations with Quincy Jones, Miles Davis, Herbie Hancock, Chick Corea, Ella Fitzgerald, Sarah Vaughn, Freddie Hubbard, Paul McCartney, Paul Simon, Aretha Franklin, Lena Horne, Sergio Mendes, Bob James, Carly Simon, Clark Terry, Leonard Bernstein and the New York Philharmonic.
Mr. Laws owns two publishing companies and founded Spirit Productions in 1976 to produce his own albums and those of promising new artists. He was selected the No. 1 flutist in Down Beat readers' polls ten years in a row and was their critic's choice for seven consecutive years and is recognized as a NEA Jazz Master.
Mr. Laws has this advice for our Litchfield Jazz Camp students: "During lean times my ability to play R&B as well as jazz and classical enabled me not only to survive, but to thrive. I believe musicians would do well to learn how to play in a variety of musical idioms."
This is Mr.Laws' first appearance at the Litchfield Jazz Festival and we are honored to have him. He appears with David Budway on piano, Chris Berger on bass, Carlos Cuevas on keyboards and Thomas Wendt on drums.
Artist Website
Thumbnail photo by Goio Villanueva