John Pizzarelli has had a multi-faceted career as a jazz guitarist, vocalist and bandleader. Internationally known for classic standards and late-night ballads, his most recent project finds him hosting a radio program — "Radio Deluxe with John Pizzarelli." Born on April 6, 1960, Pizzarelli has been playing guitar since age six, following in the tradition of his father, guitar legend Bucky Pizzarelli. As a child John was exposed to great jazz music of the era — Erroll Garner, Les Paul, Django Reinhardt and others. He began playing with his father at age 20, before launching his own career.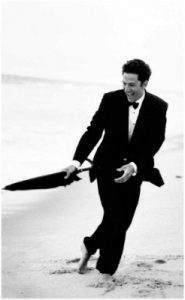 He is a consummate entertainer and reviewers rave about him — "The John Pizzarelli Trio has never been tighter, and Pizzarelli himself has never been looser," said The Village Voice of a recent New York show. Being inspired by great performers like Frank Sinatra, Pizzarelli is among the prime contemporary interpreters of the great American songbook. With Telarc's recent release of Dear Mr. Sinatra, an homage to 'Ol' Blue Eyes,' Pizzarelli's album count now stands at 21. In addition to his many recordings as a leader, John has been a special guest for James Taylor, Natalie Cole, Rickie Lee Jones, Rosemary Clooney, Buddy DeFranco, Harry Allen and, of course, Bucky Pizzarelli.
John's national television show appearances include, "The Tonight Show with Jay Leno," "The Late Show with David Letterman," "Live With Regis & Kelly," "The CBS Early Show," and others. Pizzarelli continues to tour throughout the United States, Europe and Japan, performing classic pop, jazz and swing, while setting the standard for stylish modern jazz.
Artist Website

Listen to this Artist