"Rhythm Is My Business" is the title of Lewis Nash's debut recording as a leader, and business is booming. Born in Phoenix, Arizona, Lewis began playing drums at age 10. By the time he was 21, Nash had become the "first call" jazz drummer in Phoenix, working with artists like Sonny Stitt, Art Pepper, Red Garland, Lee Konitz, Carnegie Hall Jazz Band and the Lincoln Center Jazz Orchestra.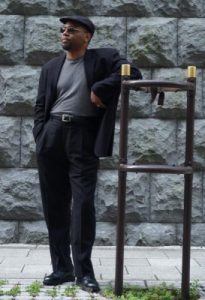 In 1981, he moved to New York City and joined the trio of the great Betty Carter with whom he played and recorded for four years. World-renowned bassist Ron Carter hired Nash in 1984. In 1986, saxophonist Branford Marsalis asked Lewis to join his quartet. That association is documented on Marsalis´ Grammy nominated recording "Random Abstract."
Nash's career has never been anything but full speed ahead. His collaborations are too many to list but include J.J. Johnson, Don Pullen, Sonny Rollins, Stan Getz, Art Farmer, Clark Terry and Milt Jackson. One of the longest and most memorable of these was his 10 year stint with Tommy Flanagan, with whom he appeared on the Litchfield Jazz Festival in 1999.
Nash's discography includes over 300 recordings and includes projects with Dizzy Gillespie, Oscar Peterson, Benny Carter, Hank Jones, Diana Krall, Joe Lovano, Roy Hargrove, Natalie Cole, Bette Midler, and Nancy Wilson, to name a few. Lewis' lectures, clinics and workshops are as much in demand as his bandstand and studio work. He thanks Sonor drums, Zildjian cymbals, Remo drumheads and Regal Tip drumsticks for sponsorship.
This is Lewis Nash's second appearance on the LJF, and he appears with his Quintet, Renee Rosnes, piano, Jeremy Pelt, trumpet, Jimmy Greene, saxophone and Peter Washington on bass.