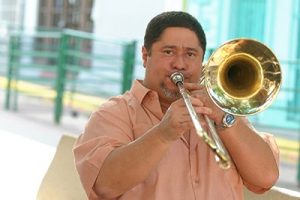 Trombonist/composer/arranger Papo Vázquez is more than 35 years into a career spanning jazz, Latin, Afro-Caribbean and classical music, and recording. Born in Philadelphia, he spent his early years in Puerto Rico, came home and grew up in the heart of North Philadelphia's Puerto Rican community. Papo bought his first trombone for $5 and joined the elementary school band. At 14, an uncle recommended him to a local salsa band, where he met trumpet player Jimmy Purvis who inspired his life-long passion for jazz. By 15, he was performing with local Latin bands and accompanying visiting artists like Eddie Palmieri. At 17, he moved to New York and was hired by Chocolate Armentero's band and soon began playing and recording on the salsa scene with The Fania All -Stars, Ray Barretto, Willie Colón, Grupo Folklorico Nuyorquino, Eddie Palmieri, Larry Harlow, and Hector La Voe. He became a key player in the burgeoning Latin jazz scene of the late 1970's, performing with Jerry Gonzalez, Hilton Ruiz, and others. He studied with Slide Hampton, later recording and performing for Slide Hampton's World of Trombones. Vázquez went on to perform with jazz luminaries Dizzy Gillespie, Frank Foster, Mel Lewis, and Milton Cardona, and to tour Europe with the Ray Charles Orchestra. By the age of 22, he had traveled the globe. He was a founding member of Jerry Gonzalez' Fort Apache Band and toured with them and Tito Puente's Latin Jazz Ensemble.
By the 1980s Papo Vázquez-the-composer was born. He spent time in Puerto Rico with Batacumbele and began to experiment with "bomba jazz," a mixture of jazz and traditional Puerto Rican bomba. In 1993 he recorded his first album as a leader, Breakout. Two later recordings evolved into his enduring group, Pirates Troubadours, an "Afro-Puerto Rican jazz band." He received the first commission ever for the Afro-Latin Jazz Orchestra at Jazz at Lincoln Center. His first classical composition, Palomita – Afro-Caribbean Suite, was commissioned by the Bronx Arts Ensemble, followed by scores of others, and recently, a commission from Wynton Marsalis for a new work inspired by Cuban painter Wilfredo Lam, performed as part of Jazz at Lincoln Center's Jazz and Art concert. Ruben Blades, Hilton Ruiz, and Dave Valentin, among others, have recorded his music. He composes for movies, and his credits include the soundtracks forFree Enterprise, The Mambo Kings, Spike Lee's Mo' Better Blues, The Thomas Crown Affair, and the Perez Family.
In 2008 Vázquez was nominated for a Grammy and received the Latino Masters Award under the National Endowment for the Arts American Masterpieces Presenting program. This is his first appearance at the Litchfield Jazz Festival. Papo Vázquez is leader and trombonist. He is joined by band members Willie Williams on sax, Rick Germanson on piano, Alexander "Apolo" Ayala on bass, Alvester Garnetton drums and Anthony Carrillo and Carlitos Maldonado on percussion.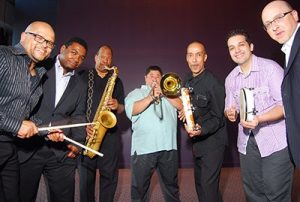 Artist Website

Listen to this Artist