"Being also from the Hartford area, I've always admired Jimmy's creative career and knowing that we drank the same water."
— Richie Barshay, on working with Jimmy Greene
Richie Barshay, drums
Percussionist Richie Barshay, noted for his work with the Herbie Hancock Quartet – he was recruited for the group while still a student at New England Conservatory—was called "a player to watch" by JazzTimes. He has travelled and recorded with Chick Corea, Esperanza Spalding, The Klezmatics, Fred Hersch, Kenny Werner, Lee Konitz, Natalie Merchant, David Krakauer, Fred Wesley, Claudia Acuña, Bobby McFerrin, the Curtis Brothers, and Pete Seeger among others. Since 2004, he has led outreach projects as an American Musical Envoy with the U.S. State Department in Asia, Africa, South America, and Europe. Now based in New York City, Richie began playing jazz and Afro-Caribbean music during his youth and has expanded his focus to Indian rhythmic concepts and tabla, inspiring his 2007 recording debut Homework on Ayva Records.  It heralded "the arrival of a major innovator who also knows how to have fun" –The Guardian.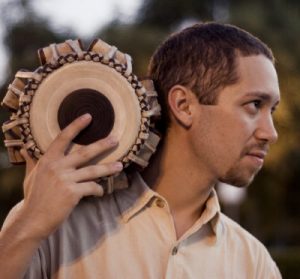 Richie endorses Zildjian Cymbals and Vic Firth Drumsticks.
Richie and Jimmy Greene can each trace their affiliation with Litchfield Jazz back just about as far as it can go.  Richie appeared with his friends, Luques and Zaccai Curtis, at an arts education program run by Litchfield Performing Arts for middle and high schoolers at Naugatuck Valley College in 2001. Their group was called Latin Flavor and they had just that!  They were 12 and 13 years old, ran away with the judges top praise and opened for an evening concert starring the great bassist Reggie Workman.  They also walked away with scholarships to Litchfield Jazz Camp: Jimmy was one of his teachers that summer. One way and another, none of them has ever left.  Richie is a member of a group we lovingly refer to as "lifers." This is his 3rd appearance at LJF and his first as a leader. The group's bass player is the great
, who appeared, with Richie, in the Kenny Werner Trio at Litchfield Jazz Festival in 2008. This is Roeder's second appearance at Litchfield.  We fell in love with his work when he played here with Kenny Werner and asked Richie to invite him again for today. Jorge was born in Lima, educated in Russia and is now one of the busiest bassists in New York. He currently plays with the Julian Lage Group and has worked with, among others, Gary Burton, Steve Lacy, Antonio Sanchez, and Matt Wilson. We are delighted to welcome him back.
Jimmy Greene, saxophone
Jimmy Greene was on the very first faculty of Litchfield Jazz Camp—there were 35 students in a day camp in White's Woods–under the leadership of trombonist Steve Davis. Jimmy was fresh out of Hartt School and only 22 and had just finished in 2nd place in the 1996 Thelonious Monk Competition. Flashing forward to 2016, Jimmy has been nominated for a Grammy Award for his album Beautiful Life, a celebration of the life of his 6-year-old daughter, Ana Márquez-Greene, whose life was tragically taken, along with 19 other children and 6 educators, on December 14, 2012 at Sandy Hook Elementary School in Newtown. Green has had a brilliant career, with 75+ albums to his credit and appearances worldwide with artists like Harry Connick and Kenny Barron.  He is currently is Assistant Professor of Music and Coordinator of Jazz Studies at Western Connecticut State University in Danbury. This is his 9th appearance at LJF.
Artist Website