CLINIC: The Bronx Horns will be giving a clinic Saturday from 1:00 – 1:45 PM in the Artist Talk Tenton the grounds of the Litchfield Jazz Festival.  All ticket holders are welcome to attend.
---
The Bronx Horns have established themselves as one of the best Latin jazz and salsa bands on the scene today. With their ability to perform Latin jazz, all forms of salsa (mambo, cha cha, merengue, boogaloo, bolero) or a combination of these styles, they serve up a dynamic performance every time they walk on stage. Comprised of former members of the Tito Puente Orchestra, their experience and talent are rivaled by few others. Leader, sax and flute player Mitch Frohman, spent 25 years with Tito Puente. Other members include trumpeter Pete Nater, the legendary Bobby Porcelli on alto sax, the great sonero Frankie Vazquez, and an all -star rhythm section. The Bronx Horns inspire and create new concepts in the Latin music, continuing the legacy of their mentors Tito Puente and Mongo Santamaria.
The band has earned critical acclaim and a devoted following at the San Jose Jazz Festival, Marciac Jazz Fest in France, J.V.C. Festival in New York, the Lincoln Center 'Out of Doors' Festival and clubs like Birdland, The Blue Note and SOB's.
Bronx native Mitch Frohman, the Bronx Horns' leader received his degree from The University of Miami. After a quarter of a century with Tito Punete, he now serves as road manager for The Latin Giants Orchestra (former musicians of The Tito Puente Orchestra). Some of the great salsa/Latin-jazz artists he has played and or recorded with are Mongo Santamaria, Celia Cruz, La Lupe, Eddie &  Charlie Palmieri, Paquito D'Rivera, Chico O'Farrill Orch., Joe Cuba, and many more. He has also played and or recorded with Cyndi Lauper, Paul Simon, David Byrne & The Talking Heads, and Blood, Sweat and Tears. Currently, besides leading The Bronx Horns, Mitch tours the world as the sax/flute soloist with the Grammy-Award winning Spanish Harlem Orchestra. Mitch is also an accomplished clinician (don't miss his LJF 2011 clinic!). His signature sound can be heard somewhere in the world, every day, as he is the sax soloist on the theme song of the hit television show Sex and The City.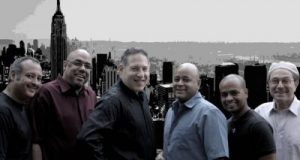 The Bronx Horns will make their Litchfield Jazz Festival debut with Zaccai Curtis on piano, Mitch Frohman on tenor sax and flute, Alex Han on alto sax, Jerry Madera on bass, Willie Martinez on drums, Philip Dizak on trumpet and Eric Velez on conga.
Artist Website

Listen to this Artist