You are welcome to bring a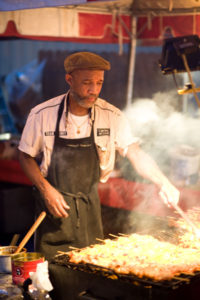 picnic on the lawn or try our fantastic and reasonably priced food, specialty brews and wine. See our FAQ's for details about what you can bring and what to expect. The Litchfield Jazz Festival's food court offers a delicious mix of world cuisine and local flavor.
If you would like to be considered for the 2018 Festival, please send a letter of interest with your vendor name, website, contact information, references and description of offerings to Tegan@LitchfieldJazzFest.com.
2017 Food Vendors
| Food Vendors | Menu Samples |
| --- | --- |
| AJ's Steak & Pizza | Locally raised bison burgers, wild caught alaskan salmon burgers, pizza, steak grinders, sausage & peppers, burgers, hot dogs and big salads. |
| The Chicken Smells Good | Another longtime favorite, features chicken kabobs, vegetable rice and pasta dishes, bourbon chicken, veggie rolls, and ribbon fries! |
| Lemonade Grenade | Returning in 2017 to refresh audiences with their unforgettable fresh squeezed traditional and strawberry lemonades. |
| Ben & Jerry's | They are BACK! A Festival favorite, Ben & Jerry's is back with their delicious ice cream and milkshakes. |
| Caribbean Kitchen | New to the lineup this year and adding some Caribbean flair with Jerk Chicken, Oxtails, vegetables and other delicious choices! |
| Odeen's BBQ | Hardwood smoked meats, jumbo pulled pork sandwiches, baby back ribs, smoked turkey,burnt end chili, smoked meat platter (sausage, brisket, pulled pork & ribs). All food smoked fresh on hickory for up to 14 hours. |
| Christianos Mini Donuts and Desserts | Satisfy your sweet tooth with delicious mini doughnuts, fried oreos, twinkies and other treats including Iced Coffee if you need a pick-me-up! |
|  Simply Fresh | Enjoy fresh fruit salads and smoothies made to order! Simply fresh, simply delicious! |
|  Zelle Seafood & Chips |  It doesn't get fresher than this – you won't want to miss the shrimp, cod fish, onion rings, whole belly clams and clam strips – piping hot and fried to order. . |