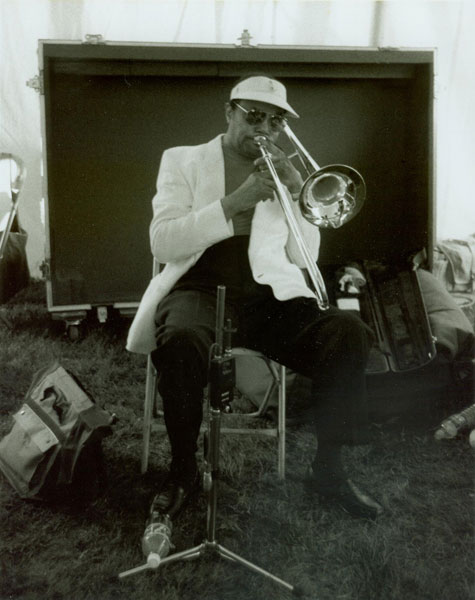 Litchfield Jazz Festival was launched in 1996 with a line-up any well-established festival would have been proud of.  Litchfield Performing Arts had for many years presented a classical series which it salted with dance and theater and jazz.  The jazz performances featured, among others, Marian McPartland and Tony Bennett. People responded so well to our toe-in-the-water, we decided on a jazz cabaret series the following year. Dick Hyman, the New Black Eagle Jazz Band, Steve Kuhn (with Lewis Nash) and the late Lou Stein all performed and wowed the audience. So, what next?
Destiny depends on two things: geography and timing.  Well, we had the geography: Litchfield County in the summer time was the second most popular destination for Metro visitors.  And we had the timing.  The Connecticut Commission on the Arts had just announced a small grant for local groups getting together on efforts to benefit both the organizations and the community.  So, we partnered with White Memorial Foundation and planned our first jazz festival for the summer of 1996.

As Artistic Director of LPA, I was overdue for a challenge and spent the next year meeting with jazz gurus like DJ Ken Woods from WPBX Long Island's Public Radio Station and listening to the endless CDs he sent me, going to concerts and visiting other festivals in New York and as far away as New Orleans, and generally enjoying the heck out of making up for all the jazz music I hadn't heard since the 70s.  It was electrifying.

So, with the help of research and advice from new friends, we presented that first year: The McEachern/Pavone Sextet with Steve Johns, Marty Ehrlich, Peter Madsen and Thomas Chapin; The Tana Reid Quintet with Akira Tana, Rufus Reid, Craig Bailey, John Stetch, and Mark Turner; the Terence Blanchard Group; Ahmad Jamal; Larry Goldings with Bill Stewart and Peter Bernstein; Diana Krall (for her U. S. festival debut) with Russell Malone and Paul Keller; Christian McBride with Joey Calderazzo, Tim Warfield, and Carl Allen; and J.J. Johnson with Renee Rosnes and Rufus Reid.  Not too shabby for a first time festival.  Not bad for a 25th anniversary festival!

The Litchfield Jazz Festival was a success from the start. Of the sponsors who helped that year, the two major ones are still with us: Steinway & Sons and the Commission on the Arts (now known as the Connecticut Commission on Culture and Tourism).  We spent two summers at White Memorial and started what today has become Litchfield Jazz Camp. That year we had 35 day students for a week. In 1998, we moved the operation to Goshen Fairgrounds because we had outgrown the Litchfield park.  By now the festival was a three-day event and continued to keep up its high musical standards welcoming performers like Tito Puente, Tommy Flanagan, Dave Brubeck, the Heath Brothers. Toots Thielemans, Taj Mahal, Brad Mehldau, John Pizzarelli, Ray Barretto and scores more.

In 2009, when Litchfield Jazz Camp grew to more than ten times its original size and expanded from one week to one month we move to Kent. We accepted the invitation of our new camp host, Kent School, to hold the Festival on their grounds.
Due to an overwhelming outcry from our patrons to bring the Festival Mainstage "outside" and under a Tent again, we decided to move the Festival back to its old home at the Goshen Fairgrounds for 2012.