Twitter, Facebook, & Instagram!
Special Events Calendar

Get Involved
The Litchfield Jazz Festival is a proud production of the not-for-profit Litchfield Performing Arts, Inc (LPA). LPA's internationally renowned Litchfield Jazz Festival is making it's 22nd appearance August 5 & 6, 2017. The Festival will be held at the Goshen Fairgrounds in Goshen, CT.
In 2018 we will celebrate our 23rd year! Join us for another summer!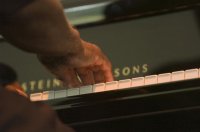 The Litchfield Jazz Festival relies on our donors to continue this great festival and all of Litchfield Performing Arts' programs.
Ways to support
Join our Mailing List!
Enter your email address below. After submitting, please indicate which programs you'd like to receive more information about. You can unsubscribe at any time and we will never share your email address with anyone.
Enter your email address:
What our festival goers are saying about their experience
Nothing beats the Litchfield Jazz Festival…an ongoing tradition for those in the know.

Ariel D. Teitel, JazzImprov Magazine

I was overjoyed with my experience at the Jazz festival. Remarkable. Each performance alone was worth the price of admission. I have not stopped talking and email everyone I know.

Festival Goer

The sweetest little festival in the United States.

Stephen, Brighton, MA

This is the best jazz festival anywhere!

Robin, Southington, CT

Stands Tall…

Wall Street Journal

A model jazz line-up.

New York Times

Litchfield Jazz Festival is "a most mellow and tasty event."

Festival Attendee

Top-ranked … not one of [those] fests packed with pop fizzle and no jazz sizzle.

Owen McNally, Hartford Magazine

Litchfield really is what other jazz festivals wish they could be…it [is] a true gem.

Dave Hershorin, NewOrleansRadio.com

One of the best festivals.

Diana Krall

A summer in the Litchfield [hills] is always green and glorious, but how much sweeter it becomes when the strains of jazz, pure and beautiful, are carried on the summer wind.

Litchfield County Times