"a rising star violinist" — Downbeat Magazine
Twenty-four-year-old Aaron Weinstein is quickly earning a reputation as one of the finest jazz violinists of his generation. As funny as he is musically talented and with virtually no formal classical training (he learned by listening), he recently told an audience "don't tell anyone or you'll ruin the illusion that I actually know what I'm doing."  He started getting paid to play at 12 ("I was really bad but performing was the only way to learn"). When he was 15, he recorded a few songs onto a CD and sent it to John Pizzarelli, and John responded. He was, says Aaron, "wildly encouraging." Through John, Aaron met his famed guitarist father, Bucky Pizzarelli, and played his first gig with the master when he was 16. Both father and son welcomed him and taught him a great deal. Aaron has played with John Pizzarelli on several CDs and gotten the attention of managers and presenters.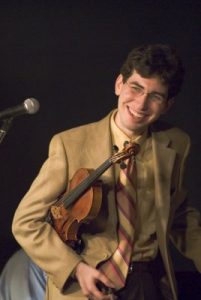 As a featured soloist and bandleader, Aaron has already performed at Jazz at Lincoln Center, Wolftrap, The Blue Note, Birdland, the Iridium, The Oak Room, and at festivals in the US. England, France, Switzerland, Iceland, and Israel. He has performed and recorded with an array of jazz icons including Les Paul, the Pizzarellis, Scott Hamilton, Dick Hyman, Ken Peplowski, Houston Person, Annie Ross, Carol Sloane and Skitch Henderson.
Aaron is a recent graduate of the famed Berklee College of Music where he was awarded a four-year talent scholarship.  With the release of his Arbors Records debut, A Handful of Stars (called "the rebirth of the hot jazz violin" by critic, Nat Hentoff) Aaron has become the youngest jazz musician to have recorded as leader for this prestigious traditional jazz record label.  His newest release, Blue Too, is a duo with John Pizzarelli, also available on Arbors Records.
This is not only Aaron's Litchfield Jazz Festival debut, but his debut as a leader on any jazz festival.  He appears here with Tedd Firth on piano and Steve LaSpina on bass.
Artist Website

Listen to this Artist

Listen to this Artist