Béla Fleck, Zakir Hussain and Edgar Meyer were featured on NPR's Tiny Desk Concerts [July 26, 2010].  Watch the video or listen to the music on NPR.org.
---
CLINIC: Béla will be giving a clinic Sunday from 4:30 – 5:15 PM in Mattison Auditorium on the ground of Kent School.  All ticket holders are welcome to attend.  Learn more about our clinics here.
---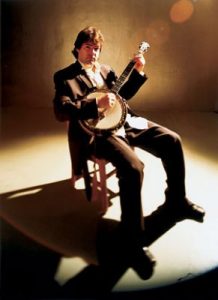 Béla Fleck is considered the premiere banjo player in the world. A New York City native, he began playing the banjo at age 15 after being awed by the bluegrass music of Flatt & Scruggs. While still in high school, he experimented with bebop, and in 1980 he released his first solo album, Crossing the Tracks. In 1982, he joined the progressive bluegrass band New Grass Revival. In 1989, he formed the Flecktones, with Victor Wooten on bass, Jeff Coffin on sax and flute and Future Man on percussion. Today, Béla Fleck and the Flecktones perform for over 500,000 people annually. Fleck has received more Grammy nominations in more categories than any other musician in history— and his Grammy-Awards total 13, including two in 2010. In a recent project Fleck and director Sascha Paladino created and toured the documentary Throw Down Your Heart to festivals nationwide. Motivated by a deep love of African music, the film follows Fleck on a boundary-breaking musical adventure to explore the little-known African roots of the banjo. In the film, Fleck finds common ground with musicians ranging from local villagers to international superstars to create some of the most meaningful music of his career.
Zakir Hussain is a classical tabla virtuoso whose brilliant performances have established him as a national treasure in his native India and earned him worldwide fame. Widely considered a chief architect of the contemporary world music movement, Hussain's contribution includes historic collaborations. These include Shakti, which he founded with John McLaughlin and L. Shankar in the early 1970's; the Diga Rhythm Band, Making Music, Planet Drum with Mickey Hart; Tabla Beat Science, Sangam with Chrales Lloyd and Eric Harland; and recordings and performances with artists as diverse as George Harrison, Joe Henderson, Van Morrison, Airto Moreira, Giovanni Hidalgo, Pharoah Sanders, Billy Cobham, Rennie Harris and the Kodo drummers of Japan. A child prodigy, Hussain was touring by the age of 12, the gifted son of tabla legend Ustad Allarakha. Hussain came to the United States in 1970 and embarked on a career which includes no fewer than 150 concerts a year. He has composed soundtracks for the films In Custody and The Mystic Masseur, directed by Ismail Merchant, Bertolucci's Little Buddha, for which Hassain composed, performed and acted as Indian music advisor, Vanaprastham (The Last Dance), chosen to be screened at the Cannes Film Festival in 1999, Saaz, and Everybody Says I'm Fine.
Edgar Meyer was called "the best bassist alive" by San Diego Magazine. Meyer's unparalleled technique and musicianship and his gift for composition have brought him to the forefront of the music world, and his uniqueness has been rewarded with a 2002 MacArthur "Genius" Award. As a soloist, Meyer has released a concerto album with the St. Paul Chamber Orchestra featuring Joshua Bell and Yo-Yo Ma. In 2006, he released an eponymous solo recording on which he wrote and played all of the pieces, on seven instruments. His newest recording, a CD/DVD of original material with mandolinist Chris Thile, was released in 2008. As a composer, Meyer has carved out a remarkable niche. In 2006 he premiered a triple concerto for double bass, banjo and tabla (co-written and performed with Béla Fleck and Zakir Hussain) and a piece for double bass and piano performed with Emanuel Ax. Meyer premiered his Double Concerto for Bass and Cello with Yo-Yo Ma and the Boston Symphony under Seiji Ozawa. In 1999, his violin concerto, for Hilary Hahn, was premiered and recorded with the St. Paul Chamber Orchestra under Hugh Wolff. Collaborations are central to his work. One with Yo-Yo Ma and Mark O'Connor in 1996 was followed up with its Grammy Award-winning sequel Appalachian Journey in 2000.
Artist Website