"Eddie Palmieri. . .has been the most consistently innovative artist in Afro-Cuban music in the United States for the past 30 years." — John Pareles, New York Times
---
A 9-time Grammy Award winner, Eddie Palmieri is one of the foremost Latin pianists of the last half-century. It is no overstatement to say he has revolutionized Latin Music. His amalgam music based on his Puerto Rican heritage with American jazz with Cuban underpinnings made him an instant hit in the 1950s Palladium Theatre heyday. Now, as is his due, he has received our nation's highest honor naming him a 2013 NEA Jazz Master putting him in the echelon of jazz greats Count Basie, Miles Davis, Ornette Coleman and Ella Fitzgerald.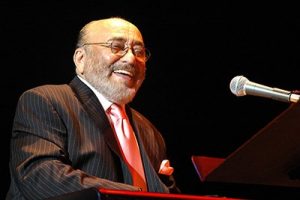 Palmieri started playing with his brother Charlie's band and entering talent contests at age 8. "I wanted to be the drummer…," he says, "and carried a box of heavy timbales around for a while. But my mother pointed out I could be a professional musician and not have to carry anything. I sold the drums back to my uncle and have been a pianist ever since…I'm stilla frustrated percussionist, so I take it out on the piano!" He formed his own band at age 14.
Gathering inspiration from Machito, Tito Rodriguez, Tito Puente and others, Palmieri made his professional debut with Johnny Sequi's orchestra in 1955. In 1973, he won the Grammy's first tropical music accolade. In 1994 he helped convince NARAS to establish the Latin Grammy. In 2005, Palmieri teamed up with longtime trumpeter and band member Brian Lynch to record The Brian Lynch/Eddie Palmieri Project: Simpático. He appeared with this project at the 2006 Litchfield Jazz Festival.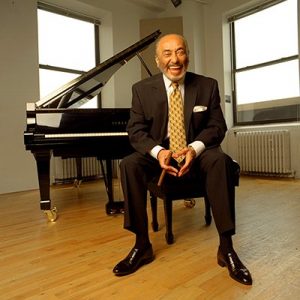 Today he is a Concord recording artist whose latest discs include Listen Here, Ritmo Caliente, La Perfecta II.
His Litchfield Jazz Festival performance includes Mr. Palmieri on the Yamaha keyboard, Luques Curtis on bass, Jose Claussell on timbales, Vicente Rivero on congas, Orlando Vega on bongo, Louis Fouche on alto saxophone and Jonathan Powell on trumpet.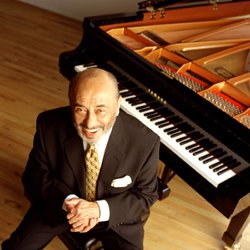 Artist Website

Listen to this Artist

Listen to this Artist