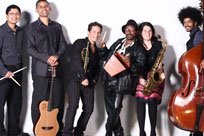 The Afro-Peruvian Sextet was founded in 2005. Its inventive program of traditional Afro-Peruvian music has been transformed by its leader Gabriel Alegría's synthesis of folkloric Afro-Peruvian rhythms and jazz, Their blend of scholarship and playfulness transmits to audiences the black music of coastal Perú as a way of life.
Each member of the Sextet is a master musician and  educator. During more than ten years on the road together (their latest release on ZoHo marks the occasion with "10"), their mission has been to spread the joy and love of the music around the world. This happens on the stage and through workshops, master classes, after-hour hangs and even cooking (food and music are inseparable in Afro-Peruvian culture!)
The Afro-Peruvian Sextet has produced five CDs, one DVD and one vinyl record to date. Their audiences come from all over the globe and include a legion of dedicated fans who work with the band on concert promotion, merchandise sales and, most notably, Tour Perú, an innovative concept where fans join the musicians on the road in Perú once a year.
With home bases in Lima and New York City, the band has been embraced by both cities. In 2015, Hot House Magazine named the band New York City's "Best Ensemble of the Year", and New York City Jazz Record gave them the nod for "Best Latin Jazz Album." In Perú, local media and press  follow and document the band. The country's most important newspaper, El Comercio described it as "the catalyst that marks the start of Afro-Peruvian jazz music's flight to the international stage."
The band has created a thriving "scene" around Afro-Peruvian jazz. The Latin Jazz Network said of them "(the band) seems to carry within a vital life-force that is irrepressible." The New York Times wrote, "the Sextet knows its mission well and has the execution down to a science." The Wall Street Journal called their work "a highly sympatico blend of North American improv and South American beats."
The band's 2017 touring begins in New Orleans with appearances at the iconic club Snug Harbor and the JEN conference. Past appearances have included Zinc bar and Dizzy's in NYC, all the major Canadian festivals and tours across the United States.
This is the Afro-Peruvian Sextet's second appearance at Litchfield (their first was in 2010). The band consists of Gabriel Alegría, trumpet, Laura Andrea Leguía, tenor/saprano saxophones, Yuri Juarez, acoustic guitar, Freddy "Huevito" Lobatón, percussion, Mario Cuba, double bass, and Luca Susti, percussion.