"The standout jazz vocalist of his generation." — Newsweek on Kevin Mahogany
---
"One of the most distinctive guitarists to come along in recent years." — Gary Giddins on Dave Stryker
---
Kevin Mahogany – With his gift for bebop, ballads, blues and swing Kevin Mahogany's talents bloomed early. By 1970, a 12 year-old, Kevin was playing the baritone sax and working professionally with Eddie Baker's "New Breed Orchestra." By his senior high school year, he discovered he was a singer.  At Baker University, he formed his own vocal jazz choir. After graduating, he returned to his roots in Kansas City and its music scene. In1993, Kevin released his debut album Double Rainbow. He has since released albums on Enja, Warner Brothers, Telarc and finally on his own label, Mahogany Jazz. With 11 CD's as a leader and more as a sideman, Kevin has become one of the outstanding vocalists in jazz. The New Yorker said of him, "There is little Mahogany cannot do." That tells it all.
Dave Stryker – Whether you've heard guitarist Dave Stryker fronting his own groups or as a featured sideman with Stanley Turrentine, Jack McDuff, or Kevin Mahogany, you know why critic Gary Giddins calls him "one of the most distinctive guitarists to come along in recent years." He has also been singled out as a Top Ten Guitarist and a Rising Star in Critics and Readers polls in Downbeat Magazine. To date he has appeared on over 70 CDs.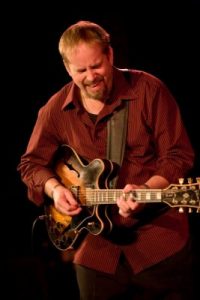 Dave Stryker grew up in Omaha and moved to New York City in 1980. He soon joined organist Jack McDuff for a two-year tour followed by a ten-year stint with the legendary Stanley Turrentine. Since then he has had a whirlwind international career of recordings and club and festival dates. Dave now has 23 CD's as a leader and over 50 as a sideman. His latest release Blue Strike (SteepleChase Music) was selected as a Best of 2011 by WBGO and New England Public Radio. He has published over 100 compositions some of which have been recorded by artists like Turrentine, Mahogany, Victor Lewis, and Steve Slagle. He continues to perform with his long-time working unit The Stryker / Slagle Band. Other projects include The Dave Stryker Organ Trio and The Blue to the Bone Band.
Dave "passes it on" by teaching privately and at the Aebersold Summer Jazz Workshop, Litchfield Jazz Camp, and New School/Veneto Jazz Workshop in Italy. His book Dave Stryker's Jazz Guitar Improvisation Method, is available from Mel Bay Publishing. He invites you to visit him at www.davestryker.com.
Dave Stryker makes his second appearance as a leader at Litchfield with a special project crafted for this occasion, Kansas City Swing, with McClenty Hunteron drums, Jared Gold on organ, Kevin Mahoganyon vocals, Mike DiRubbo on alto sax, and Dave Stryker on guitar.
Artist Website