Litchfield Jazz Festival is within shouting distance from its third decade, and we have been talking about a resident orchestra for some time. Guitarist, educator and Litchfield Jazz Camp faculty member, Doug Munro, tired of talk, took the bull by the horns and did it! And so we introduce to you The Litchfield Jazz Orchestra (LJO) in its debut public performance!!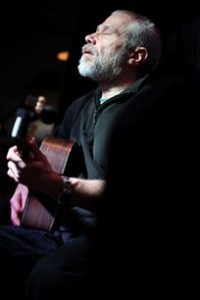 Munro, two-time Grammy nominee and founder of the jazz program at SUNY Purchase College and head of its guitar faculty, is a life-long devotee of the music of the great Django Reinhardt. So, he imagined a debut for the LJO (fun, we already have an acronym!) worked around this master's music, scored this time for Orchestra rather than the solo or small combo music that was Reinhardt's métier. He did more than imagine it, he wrote all the scores!
Reinhardt was a Belgian-born French guitarist who, along with the iconic violinist Stephane Grappelli, created what came to be known as Gypsy Jazz. Combining Romani folk music and American swing, Django created a new and exciting music that captivated the world. Doug has created for us a unique musical setting to present the compositions of Django Reinhardt and Stephane Grappelli — a traditional big band. The LJO will be performing 10 of his most celebrated compositions, including Nuagesand Minor Swing. This is hot jazz that really swings!
The Django Reinhardt Project is an ideal vehicle for LJO's extraordinary players –all of whom are long-time colleagues at Litchfield Jazz Camp. The LJO features— Doug takes pride in saying, "a who's who of the biggest names in the music industry"– Trumpets –Dave Ballou, Russ Johnson and Nick Roseboro; Trombones – Peter McEachern, Nicole Connelly, Daniel Simms; Saxes – (alto) Kris Allen, (alto) Caroline Davis, (tenor) Don Braden, (tenor) Tom Finn, (bari) Andrew Hadro; Bass – Avery Sharpe; Drums – Robin Baytas; Guitars – Doug Munro, Ken Ross; Violin – Andrei Matorin.
This is Litchfield Jazz Orchestra's debut at the Litchfield Jazz Festival.
Artist Website