"As Elvis is to rock and James Brown is to soul, Poncho Sanchez is to salsa .. particularly the congas…" Scott Lenz – LA Times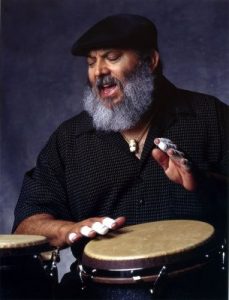 More than anything else, Poncho Sanchez is a storyteller and one of the most popular Latin jazz leaders in the world today. But it's his congas and his fabulous ensemble that do the talking. The youngest of eleven children, Poncho Sanchez was born in Laredo, Texas. Rumor has it his 13-year old mother fled to the U.S. after hiding under the bed as revolutionary Pancho Villa stormed her Mexican village. He was reared in Norwalk, California, where he was exposed to and influenced by two very different styles of music: Afro-Cuban by greats like Tito Puente, and bebop as interpreted by Charlie Parker and others. Originally a guitarist, Sanchez discovered his talent for singing during an audition for an R&B band. He would later go on to teach himself flute, drums, and timbales before finally deciding to pursue conga-playing in high school.
At 23, Poncho joined Cal Tjader's famed Latin jazz ensemble and performed with Tjader's until his death in 1982. A year later, he began a relationship with Concord Records, through whom he has two dozen recordings to date and a GRAMMY® Award and several GRAMMY nominations. His 2005 CD, Do It!, features the iconic funk band Tower of Power as well as South African trumpeter Hugh Masekela. Sanchez tours internationally and appears at virtually every jazz festival and venue in the business.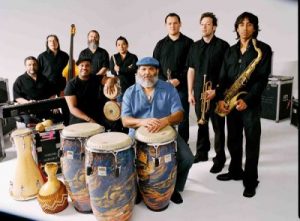 Closing the Litchfield Jazz Festival's first summer in Kent is Poncho Sanchez with his Latin Jazz Band.  Poncho brought down the house 10 years ago at Litchfield, and he is sure to do it again.   His band members include Sanchez on congas and vocals, George Ortiz on timbales, Tony Banda on bass, Ron Blake on trumpet on Javier Vergara on Alto and Tenor saxophones, Francisco Torres on trombone, Alfredo Ortiz on bongos and David Torres on piano.
---
Poncho Sanchez will be giving a master class which is open to festival ticket holders and Litchfield Jazz Camp students free of charge.  Sunday, August 2, 4:00 PM – 5:00 PM, Mattison Auditorium, Kent School, Kent, CT.
Artist Website
MORE VIDEO