Jay Leonhart
Jay Leonhart was born on December 6, 1940, in Baltimore Maryland. His parents, sisters, and brothers were all musically inclined and by age seven, Jay was playing four instruments.  When Jay was fourteen he started playing the bass in The Pier Five Dixieland Jazz Band in Baltimore and never looked back. After studying at The Peabody Institute, Jay attended The Berklee School of Music and The Advanced School of Contemporary Music in Toronto, before leaving school to start touring with the traveling big bands of the late 50's and early 60's.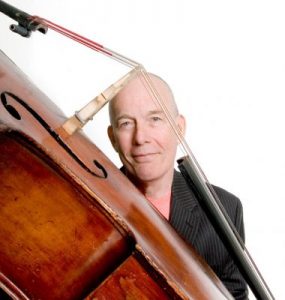 At 21, Jay moved to New York City to start his career. He played lots of funky road gigs with big bands, small bands and singers and visited countless jazz joints worldwide.  Upon moving to New York, Jay eventually began playing for many of the greats – artists like Thad Jones, Mel Lewis, Tony Bennett, Marian McPartland, Jim Hall and many others.
Jay became a very busy studio musician in New York City, visiting every musical genre from James Taylor to Ozzy Osbourne and Queen Latifah. Between 1975 and 1995 he was named The Most Valuable Bassist in the recording industry three times by the National Association of Recording Arts and Sciences.  Jay has now recorded 15 solo albums and appears in a witty musical collaboration with trombonist Wycliffe Gordon.
Wycliffe Gordon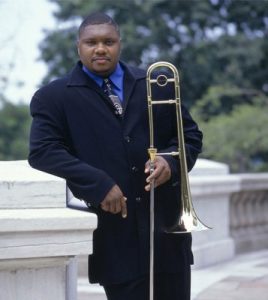 Wycliffe Gordon has built an extraordinary career as a trombonist, conductor, composer, arranger, and educator. He tours the world performing for audiences ranging from heads of state to elementary school students.  Gordon was born in 1967 in Waynesboro, Georgia to a musical family – the son of a church organist.  Prodigiously talented, he also plays the didgeridoo, trumpet, tuba, piano and sings.
Today, in addition to a thriving solo career, he tours worldwide leading the Wycliffe Gordon Quartet, The Lincoln Center Jazz Orchestra, The Gully Low Jazz Band, and is a former member of the Wynton Marsalis Septet. He has 20 albums as a leader or co-leader– his latest effort, Boss Bones (Chris Cross, 2008) and most recent recording with long-time collaborator bassist Jay Leonhart, This Rhythm on My Mind (Blue Back Records, 2006).
Gordon's commissions include a new score for the 1925 silent film "Body and Soul" and "I Saw The Light,"a musical tribute to Muhammad Ali. His compositions have been performed by LCJO, The Wynton Marsalis Septet, The Brass Band of Battle Creek and featured on the PBS series "Marsalis on Music."
A regular on TV, he has appeared at the Grammy Awards, and in PBS specials including Live from Lincoln Center and Live From Kennedy Center. Other shows include Ken Burns' Jazz, A Carnegie Hall Christmas Concert, and an NPR special on Tommy Dorsey. Gordon also appeared in the feature film "Tune In Tomorrow" starring Peter Falk, Keanu Reeves and Barbara Hershey.
Gordon is one of America's most committed music educators. He serves on the faculty of the Jazz Studies Program at The Juilliard School. He works with young musicians and audiences from elementary schools to universities all over the world. As an author, he has penned Trombone Majesty and his first method book, Wycliffe Gordon's Suggested Studies for Trombone. He is the youngest member of the U.S. Statesmen of Jazz, and serves as a musical ambassador for the U.S. State Department. Mr. Gordon endorses Edwards trombones and Monette mouthpieces. He is the recipient of recent Jazz Journalist association awards.
This is Wycliffe's first headline appearance and Jay's first appearance at Litchfield.  The Wycliffe Gordon & Jay Leonhart Quartet is Gordon on trombone and vocals, Leonhart on bass and vocals, Alvin Atkinson on drums and Ted Rosenthal on piano.
Artist Website
---
Wycliffe Gordon will be giving a master class during Litchfield Jazz Camp on Wednesday, July 8, 2009 at Kent School in Kent, CT.  If you are interested in learning more contact us.